Today I am taking part in a Blog Hop with fellow Stampin Up Demonstrator's from around the globe, who are taking part in Kylie Bertucci's Training Program. Follow the links below to continue the hop, and Thanks for popping by today, I am so happy to have you here.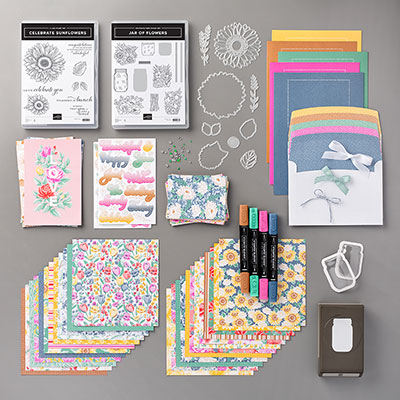 Today's card I am using a few products from the Jar Of Every Season
Suite, the Jar of Flowers bundle and Flowers For Every Season DSP.
Although this card looks like a normal card, wait for it.....
This pop up feature is really quite easy to do, and I have a video tutorial to show you how to create this card.
Thanks so much for visiting my blog today, I hope you were able to get a little inspiration from this card, and maybe even create your own pop up card.
To continue the hop, please click the links below, before you go I would love if you could leave me a comment.
MEASUREMENTS:
Whisper White Thick card base (1/2 A4),
Flowers For Every Season DSP 4 1/8 x 5 7/8",
Bumblebee card 3 1/4 x 4 3/4",
Whisper White card 3 x 3/4" + 3/8 x 1" (pop up).
SUPPLIES: